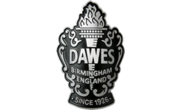 DAWES
The Dawes bicycle brand offers you the unique blend of British heritage and outstanding performance. It all started in 1906 when Charles Dawes went into business in a partnership known as Humphries & Dawes with the Humphries side of the business making motor cycles.
By 1926 Dawes Cycles Limited had been formed in its own right and the business hasn't looked back since. The Dawes factory made bikes for the armed services during the war and has supported a whole host of British racing cyclists over the years both on and off-road.
The quality of many of our production models has allowed them to become benchmark products such as the Galaxy tourer and Kingpin folder.
Always operating from the Birmingham area, the company still has a limitless passion for quality,service and cycling. The 2011 range delivers cycling excellence from its core of experienced, knowledgeable staff and excellent network of independent retailers.
We concentrate our efforts on giving our customers the reassurance that their bicycle will give them great service and unbeatable value, a testament that is borne out by a host of independent magazine reviews.
We sincerely hope you choose a Dawes product and begin to share our passion for two wheels.
eBikes