CHOOSING THE RIGHT BIKE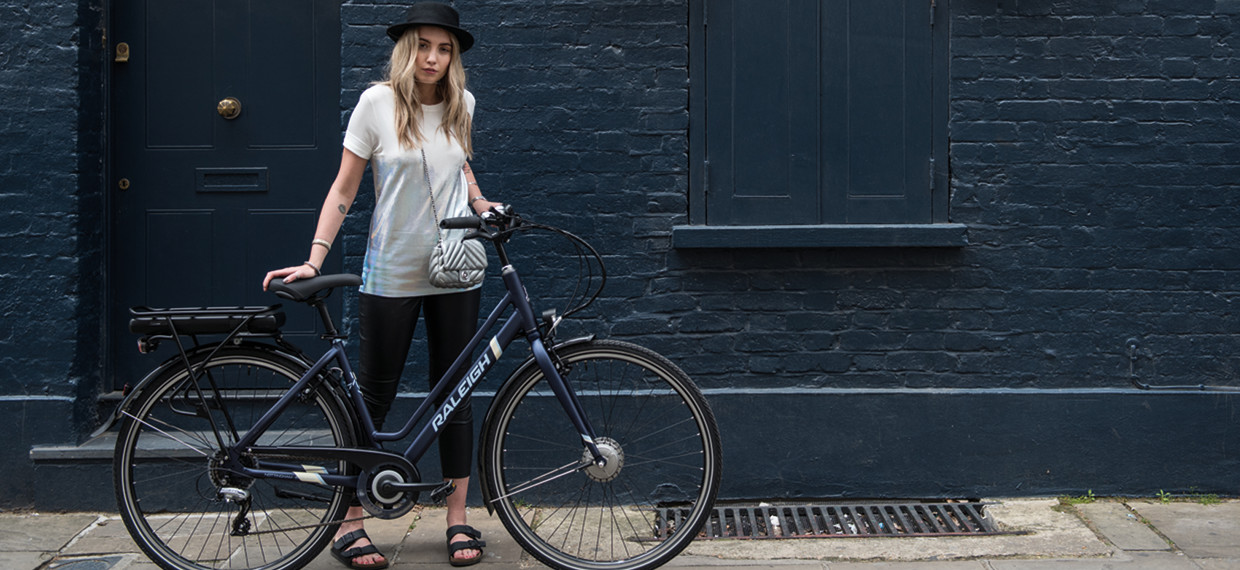 Think about all of the best bits of cycling; independence, convenience, healthy exercise, being good for the environment, and most of all fun! Forget about the bad bits; the hills and the hard work, an E-bike overcomes these issues and makes riding a pleasure.

Raleigh has been pioneering the development of E-Bikes from their first introduction. We have huge experience of the various systems on the market. Combine that with over a century's knowledge in designing bikes for the UK, and we believe we have the best ever electric bike offering around.

Our bikes are a considered range developed with the UK environment in mind and integrating seamlessly into our standard Raleigh bike ranges - because we know you'll be using them for the same things. So whether you're looking to get about town with in style on a Spirit Electric, or take a short cut along a bridle path on the Strada Trail Sport Electric, we have the bike for you.

As part of the Accell group, we have access to the expertise of Europe's largest E-bike manufacturer and are able to partner with our sister companies in the research and development of new technologies resulting in exciting new bikes such as the Array.

You also have the added assurance that Raleigh will support you after you've made your purchase. We have trained our dealer network in all the systems we use so that you can get you back on the road in the blink of an eye. We're so confident in the quality of our products that we also offer a lifetime warranty on our frames.

Discover your electric smile today - visit your local electric bike dealer for a test-ride.

SYSTEMS

Bosch

E-Bikes inspire and drive mobility and are one of the most agile, comfortable and simply clever means of transportation of our time. Cutting edge components and the high degree of design flexibility offered by Bosch E-bike Systems form the foundation for our Motus and Captus models.

The powerful Bosch Drive Unit transforms any pedelec into a clever everyday companion. Wherever you're heading, an Active Line equipped Raleigh will get you there fast, calm and collected.

The Active Line motor gives just the right level of support with every push of the pedals whether that is for relaxed everyday use or more power for those times when you really need a boost. Its optimized 3-sensor concept performs 1000 highly precise measurements per second, affording optimum power tuning and a unique riding sensation. The Active Line Power Packs ensure the most powerful performance, thanks to their high energy density and long life.

The Intuvia on-board computer serves as the command centre allowing you to switch between four different riding modes; Eco, Tour, Sport & Turbo, as well as displaying information like speed, battery level, distance travelled and approximate range available.

The handy 'walk' button delivers a 'walking speed' power output from the motor for those occasions where you need to push your bicycle up some steps or a short slope. An optimal balance of powered assistance is ensured by three sensors that monitor pedalling power, cadence and speed at a rate of 1000 measurements per second.

Precise motor control and rapid processing of sensor information ensures very low levels of noise and vibration. Reliable, stable chain run prevents chain derailments, and reduces wear. The Bosch system is even clever enough to recognise your gear shifts, and in a split second, reduce power preventing damage to the chain and sprockets.

Bosch is the market leader in E-bike drive system technology - a brand trusted globally for its engineering quality.

TransX

Based in Taiwan, TranzX are at the forefront of development, creating smart solutions for E-bikes. Early adopters of E-bike technology, they manufacture their complete system in-house to ensure quality and consistency. Many leading E-bike manufacturers use TranzX systems as they offer reliable performance at an affordable price.

At Raleigh, we use the two newest systems from TranzX; the front wheel F15 motor and mid M16 motor models. Both systems benefit from new communications technology, which ensures that the motor maximises the battery range, and will allow your dealer to set the bike up for you via a USB link.

Handle-mounted power controls are placed cose to the grips, so you can easily select from the three power levels, and use the speed button to give you an extra boost for hills or when you're late for work!

The F15 motor featured on the Raleigh Spirit and Pioneer models is a powerful, geared front wheel motor. This provides the bikes with great hill climbing assistance, and allows you to quickly pull away at junctions or traffic lights. Adopting the latest gear design allows the motor to be kept relatively small and quiet compared to other front wheel motor systems. The simple LED display indicates the level of power you are using and the remaining battery charge.

For the Raleigh Strada Trail Sport Electric, we use the TranzX M16 motor, as it is ideally suited to the type of riding this bike is designed for. In this instance the motor is directly connected to the cranks providing a smooth and exceptionally efficient transfer of power which is added to your pedal stroke. When combined with the Strada's 9 speed Shimano Deore gears, the M16 motor gives you the ability to easily climb steep hills on trails and the road, as well as speeding along on the flat. The M16 system features an LCD display that shows your speed, range and the power level you are using. TranzX inspires the modern E-bike experience with intelligent solutions felt in every push of the pedal.

Emotion

Raleigh has worked with Accell Netherlands, Europe's largest manufacturer of E-bikes, to develop the E-motion front motor system for the Array models.

This is the best riding front motor system we have ever experienced at this price point. The custom software provides an even delivery of power meaning that the bike pulls away smoothly and without the jerky surge of rival systems.

With 5 power levels plus the boost function on a twist grip you can manage the assistance that the motor gives you to maximise the range of the battery or make the ride as easy as you want it to be. The 300wh battery gives a range of up to 108km on the lowest setting or 22km on high.

This makes it ideally suited to quick commutes and trips around town or rides with the family. The D-light motor is so small and quiet you'll hardly notice it's there until you realise how far you've gone with so little effort.

Shimano Steps

Shimano are the world's leading supplier of bicycle components; there are more bikes fitted with Shimano controls than any other brand. Shimano have taken their knowledge of cycling, gained from years of experience, and applied it to produce one of the most innovative E-bike systems available.

The key to the Shimano STEPS system is the integration of the gears, motor and controller to produce a quiet, powerful and efficient riding experience.

For our Shimano STEPS equipped Raleigh E-bikes, we have combined the STEPS motor with Shimano's Alfine Di2 electronic hub gear, allowing you to change the gear using buttons rather than levers for a fast, smooth and precise shift that doesn't require readjustment.

This system also gives you the choice to set the bike to automatic shift. Based on bicycle speed and how fast you're pedalling the Shimano STEPS system will automatically tell the Di2 hub what gear to shift into. So while you pedal, the drive unit brainstorms and, if necessary, temporarily reduces chain tension so the hub can change to the right gear.

In plain English, this means a smoother riding experience because you won't have to worry about whether or not you're in the right gear. You'll realise right away how great automatic shifting is if you're not a regular rider or if you need to come to an abrupt halt. The Shimano STEPS system will automatically shift down to a lower gear as you stop at traffic lights for example, then give you that extra surge when the lights go green for an easy start.

The motor and control system is the heart of any E-bike, and with Shimano's intuitive, quiet and lightweight STEPS system, you'll push boundaries and feel energised while doing it.

WHY AN E-BIKE

Cycling isn't always easy. By its very nature the bicycle can be a worrying prospect to most ordinary people; it requires fitness, commitment and motivation. Let's face it, 99% of us are not competitive athletes looking to score a record time or suffer a mountainous climb, we're just looking to enjoy a bicycle ride or get from A to B without a fuss.

What if you could jump on a bicycle after a long time 'out of the saddle' and ride like every path or trail was a down-hill? What if we could take away that fear of failure? That's precisely what the modern E-bike can do. We can guarantee the first time you try one of our E-bikes will be a revelation.

What it is:
An E-bike or Pedelec is an electrically assisted bicycle; you pedal and the motor adds power - it's that simple.

What it's not:
A motorbike! It won't go flying off at uncontrollable speeds, it won't guzzle fuel like there's no tomorrow and it certainly won't require you to pay any extra tax, license fees or insurance.

Who is it for?
Every single person who buys an E-bike has a completely different and personal reason for doing so. When someone decides to get fit, leave the car at home or take up cycling as a hobby it's a very particular change in mind set. What a Raleigh E-bike does is open up that choice to virtually everyone. Cycling is now easy, fun & attractive to the 95% who shudder at the thought of struggling into a headwind or keeling over at the top of a hill on their first ride out.

Explore
E-Bikes take you further. For the regular cyclist going the 'alternative route' is always a risk, for the E-biker it's a temptation that's hard to ignore!

Relax
Don't fancy breaking a sweat? You don't have too. Struggling to keep up with traffic or setting off from the lights? Forget all of that, how does 15.5mph sound? Raleigh Electric bikes are life changing. Just ask one of our countless customers if they could go back to riding a regular bike; they'll be smiling as they zip off over the horizon.