EMU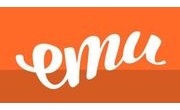 Emu was formed in 2014 to bring value and style to the electric bike market. It's a British brand backed by Delbanco Meyer a UK company with an 80-year history of making innovative consumer products. We have satisfied customers around the UK and Europe.

The bikes are unique designs for Emu, researched and specified by experts from the UK and Europe.
If you can't find the items you are looking for within our main site, you should be able to view the complete range from EMU by visiting their own website: (although please be aware that not all products may be available within the UK). Alternatively, you could call us on 01473 250610, and we may have something in-store that suits your needs.
VISIT
EMU Website