CONV-E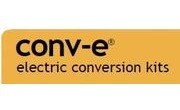 The quality, quick, compact and easy to install Electric Bike Conversion Kit!
It suites most common wheel sizes of bikes and trikes alike.
Wholly designed and assembled in the UK using the best quality sourced components, conv-e can convert many types of bikes to electric in under half an hour.
If you can't find the items you are looking for within our main site, you should be able to view the complete range from CONV-E by visiting their own website: (although please be aware that not all products may be available within the UK). Alternatively, you could call us on 01473 250610, and we may have something in-store that suits your needs.
VISIT
CONV-E Website